Announcing: Build the Life You Want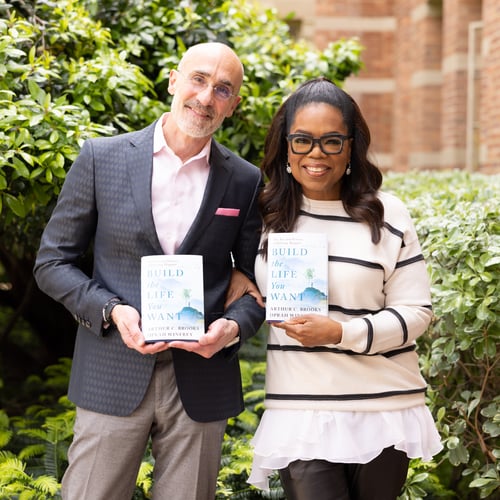 Arthur C. Brooks and Oprah Winfrey have joined forces on a new book to be published on September 12, 2023 by Portfolio Books, an imprint of Penguin Publishing Group. BUILD THE LIFE YOU WANT: The Art and Science of Getting Happier introduces readers to the cutting-edge happiness science that can change their lives, in understandable terms and with actionable strategies. Along the way, Arthur and Oprah share hard-earned wisdom from their own lives and careers, as well as the witness of regular people whose lives are joyful despite setbacks and hardship.
Portfolio Executive Editor Bria Sandford acquired US print, audio, and ebook rights, and Holly Whitaker, Senior Commissioning Editor at Ebury, acquired the UK & Comm print, audio, and ebook rights. Creative Artists Agency brokered both deals, additional deals in translation are forthcoming via CAA. An unabridged digital audio edition of the book, read by Arthur C. Brooks and Oprah Winfrey, will be simultaneously released by Penguin Random House Audio.
In BUILD THE LIFE YOU WANT, Arthur C. Brooks and Oprah Winfrey invite readers to begin a journey toward greater happiness, no matter how challenging their circumstances. Combining their decades of experience studying happiness from every angle, they show readers how to improve their lives right now – instead of waiting for the outside world to change. This is not another book with unrealistic promises of perfect bliss. It is a research-based work plan that shows readers how to make greater happiness a choice.
Portfolio President and Publisher Adrian Zackheim noted, "We're excited about the partnership between Oprah Winfrey and Arthur Brooks, and proud of the powerful result of their collaboration. It's an honor to be part of a publishing endeavor sure to change so many lives."
"I started reading Arthur Brooks' column 'How to Build a Life' during the early days of the pandemic," said Oprah Winfrey. "I found myself happily anticipating each week's lesson, which turned out to be a recipe for growing forward. When I discovered he taught happiness at Harvard, I wanted to extend that to the rest of us."
Arthur Brooks said, "I have admired Oprah Winfrey for decades, as she has lifted up millions of people around the world--including me. Our visions for a better world are the same, and our backgrounds are totally complementary. As a social scientist, I look at the data and evidence on what leads to the greatest happiness, while Oprah knows how to reach people at the most important critical points in their lives. This book will introduce readers to the incredible science of happiness, based on the best research available, in a way they can immediately apply to build the lives they truly want—and then share the love and happiness they gain with others."
Arthur C. Brooks is the William Henry Bloomberg Professor at the Harvard Kennedy School and Professor of Management Practice at the Harvard Business School, where he teaches courses on happiness and leadership. He is the creator of the popular "How to Build a Life" column at The Atlantic, an acclaimed public speaker, and the author of bestselling books, including From Strength to Strength and Love Your Enemies.
As a global media leader and communications pioneer, Oprah Winfrey has built unparalleled connections with people around the world. Through The Oprah Winfrey Show, she entertained, enlightened, and uplifted millions of viewers for twenty-five years. Her accomplishments as a philanthropist and her commitment to books, reading and education have established her as one of the most respected and admired public figures today.
Portfolio is an imprint of Penguin Publishing Group, a division of Penguin Random House LLC. Portfolio publishes non-fiction books for ambitious people, connecting readers with powerful ideas that inform and improve their lives, in the workplace and beyond. The imprint produces original books in fields such as technology, economics, entrepreneurship, biography and investigative journalism, with a focus on educating and inspiring a new generation of leaders. Notable and bestselling books include From Strength to Strength by Arthur C. Brooks, My Life in Full by Indra Nooyi, Start with Why by Simon Sinek, #Girlboss by Sophia Amoruso, The Obstacle is the Way by Ryan Holiday, Team of Teams by General Stanley McChrystal, Tribes by Seth Godin, Everything is Figureoutable by Marie Forleo, Brotopia by Emily Chang, and The Four by Scott Galloway.
Receive happiness updates from Arthur