The Hidden Toll of Remote Work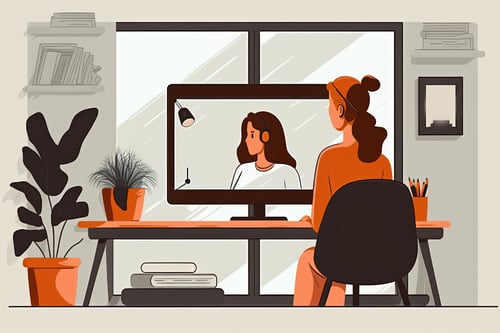 Working from home every so often is a convenience, but a fully remote job is a recipe for loneliness.
At the end of January, I went back to teaching my students in person for the first time in 10 months. It was only two days a week, and an hour and a half at a time. We were all avoiding contact and wearing masks, so normal human interaction was almost nonexistent. But for me, it was like springtime in Paris. I started sleeping better; my mood improved; I became more energetic and optimistic.
Between one-third and one-half of American employees worked in person throughout the pandemic, with or without a say in the matter, and some at great personal risk. Most of the rest of us were forced to work from home, also without necessarily wanting to. And in fact, almost two-thirds of people in a poll last fall felt that the cons of working from home outweighed the pros, and nearly a third said they had considered quitting their jobs since being banned from the workplace. In another poll, about 70 percent said that mixing work and other responsibilities had become a source of stress, and about three in four American workers in the early days of the pandemic confessed to being "burned out."
So while some people are understandably nervous about returning to their workplace, many are having an experience more like mine. My friends and colleagues who have returned to a physical office and seen others—even in a limited capacity—have told me that returning made them realize how isolated they had become during the pandemic, and the burden of stress they had been carrying, even if they faced no job threat or major health risk.
Some employers, however, have realized that several of the pandemic's workarounds are cost-efficient, and are considering making them permanent. There are many corporate leaders who still recognize that, in Microsoft CEO Satya Nadella's words, "digital technology should not be a substitute for human connection." But in what we might call a "Zoom forever" move, many other companies are contemplating radically downsizing traditional office spaces and making remote work permanent for large groups of employees.
The problem is, if millions of people never "go back to work" in a way that resembles the pre-pandemic world, it could have drastic consequences for our well-being. There's nothing wrong with a partially remote situation—say, work-from-home Fridays or more flexible schedules. But going fully remote forever could exacerbate one of the worst happiness disasters of the pandemic.
Remote work does have some happiness benefits, and not just for employers looking to cut office costs. For people living in or near congested cities, for example, commuting is time-consuming and soul-crushing; it is near the top of daily activities that stimulate unhappiness.
However, aggravation from commuting is no match for the misery of loneliness, which can lead to depression, substance abuse, sedentary behavior, and relationship damage, among other ills. And it is simply undeniable that remote work usually leads to loneliness. In research conducted more than a decade before the pandemic about remote work among journalists, the organizational psychologist Lynn Holdsworth found that full-time telework increased loneliness over office work by 67 percentage points. Based on data from 2019, the 2020 State of Remote Work report issued by the social-media management firm Buffer showed that loneliness is the biggest struggle remote workers say they face, tied with problems of collaboration and communication.
Work is where many people have the bulk of their social interactions. In a recent survey, 70 percent of employees said friendship at their job is the most important element of a happy work life. Research shows that employees say a co-located office environment is where they establish not just work collaborations but also their social ties.
Employers intent on abandoning the physical office might respond that the pandemic has led to a proliferation of potentially loneliness-easing communication technologies. Few of us had ever used Zoom before the lockdowns; now, many of us see our colleagues every day on the platform for hours at a time. It's not like we are incommunicado.
But when it comes to happiness, these technologies are not a good substitute for in-person interaction. In the first study to examine the effects of Zoom since the pandemic's onset, psychologists at the University of California at Los Angeles and the University of Cambridge surveyed 119 young adults on their mental health and found that "there was no association between the frequency of virtual social interactions and well-being."
That leaves us with the conclusion that while remote technologies might be a necessary substitute for in-person work during the pandemic, they are inadequate to meet our human need for contact. Researchers have already found "large increases in depressive symptoms, and large decrements in happiness and social satisfaction post-pandemic onset." If we are complacent about going back to work, "Zoom forever" could escalate our epidemic of loneliness.
And if it does, the consequences will most likely sneak up on us. Mental-health professionals believe that distress can build up over time without our conscious awareness. I found that the effects of isolation had crept in, depressing my mood and hampering my creativity in a way I didn't recognize until I experienced the lightness and energy that came from human interaction. A highly contagious respiratory illness is certainly a health crisis. But it's important to remember that, unremarked on and unchecked, loneliness could lead to a major crisis in mental and physical health, too.
No matter how employers dress up fully remote work as a perk, workers will primarily bear the price—overtly in terms of home-office expenses, but especially covertly, in psychological costs—and should fight the trend. If given the choice, you should fight the torpor that comes from having to put on pants for work, and work at least a day every week in the office. Ideally, you should go in even more: Research suggests that the benefits of remote work start to plateau after only about 15 hours a week. If the office permanently closes, consider whether your employer has your best interests at heart, and if you can, think about moving to another company.
This doesn't necessarily mean that everyone needs to be at their desks 40-plus hours a week. In Australia, for example, trade unions set a standard of companies guaranteeing two-fifths of a workweek in the office to protect remote workers from problems of isolation. Whether more or less than this is the ideal level, having no office time at all is clearly an error.
Avoiding this error is in employers' interest as well, because loneliness over the long run wreaks havoc in the workforce. Research demonstrates that loneliness can drive employee burnout and turnover, which makes perfect sense given that friendship at work is a big part of a job's true compensation. Making workers lonely is like gradually lowering their salaries: What might seem like a smart efficiency move could turn into a massive human-resource headache in relatively short order.
None of this should come as a shock to us. In his Politics, Aristotle claimed, "A man who is incapable of entering into partnership, or who is so self-sufficing that he has no need to do so … must be either a lower animal or a god." And this is a well-documented scientific truth, not just a philosophical one. To isolate ourselves from others is aberrant to our nature, and makes thriving impossible. We are social animals, not made to live and work in isolation.
An unhappiness epidemic in the wake of the coronavirus pandemic is a real threat. That's the bad news. The good news is that it is both predictable and avoidable. But the longer we continue to self-isolate, the more likely we are to experience a downshift in our collective happiness.
© 2023 Arthur Brooks, as first published in The Atlantic.


Receive happiness updates from Arthur